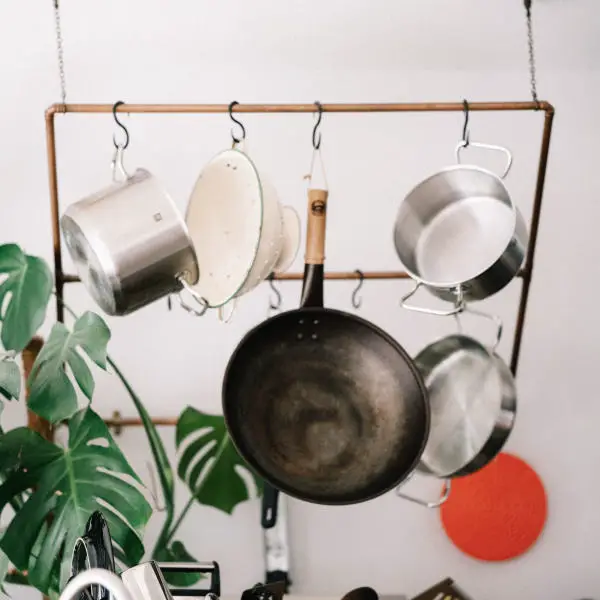 Pots, pans, and lids are some of the bulkiest equipment of any kitchen. They are big and heavy but since they are used quite often you need to find a way to store them neatly so you can access them easily.
I used to struggle with the pots and pans in my kitchen. They took up a lot of space and this made it difficult to get things done in the kitchen.
As a result of improper storage, they would end up getting damaged and this meant buying new cookware every so often.
With time, I learned how to store the pots neatly and I will share some tips below to bring some order back into your kitchen.
Tips On How To Store Pots And Pans Neatly
Here are a few organization hacks that will come in handy when you want a neat way to store your cookware.
1. Use a Roll-Out Organizer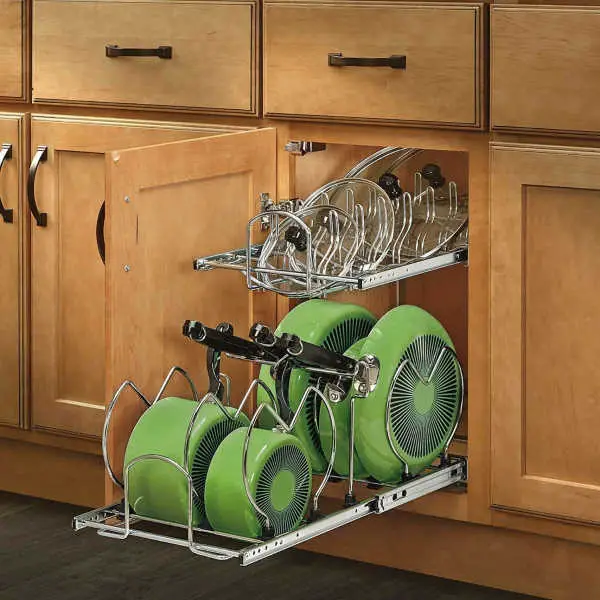 A roll-out organizer is designed to have shorter shelves as the organizer gets taller.
This means that you will not have to go deeper when looking for specific cookware and this will make it less stressful to look for them.
I had this installed in my kitchen a few months ago and I can say that the kitchen is more organized than ever.
2. Use Hooks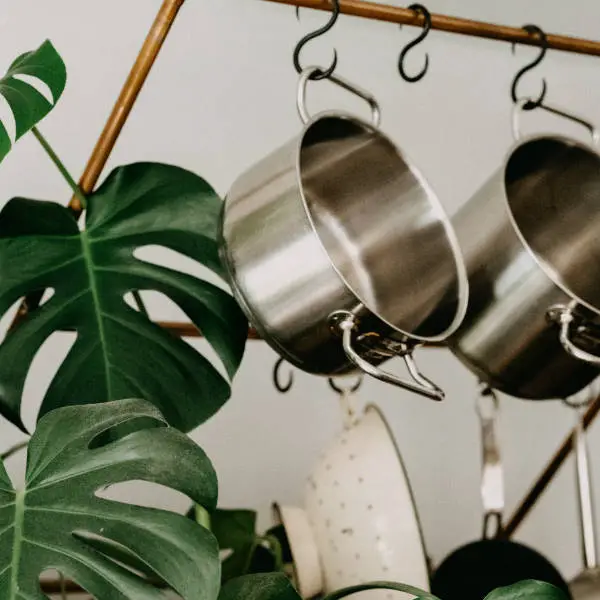 Hooks will make it easy for you to store cookware (and anything else, for that matter) in your kitchen.
Hang them on different surfaces or even install them in a cabinet.
They are a great way of transforming wasted space such as the space between the wall and the kitchen cabinet into useful open-air storage.
3. Make Use of Pegboards
Pegboards will also make it easy for you to store your cookware after use. Hang one of them on an empty wall and hang your pots on it.
Make an outline of the different pots and pans that you are hanging on the board so as not to forget where each piece goes.
You will be able to access your pots from the pegboard easily and the boards will also help you make use of idle surfaces in your kitchen.
4. Flip the Lid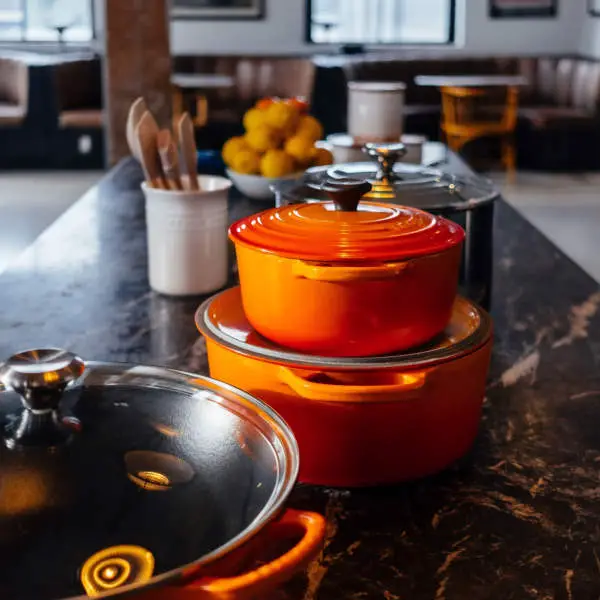 When you flip the lid when storing your pots, you can easily place another pot on top of it and this presents a simple way to neatly store your pots and pans.
Flipping the lid upside down means that the handle will be to the inside of the pot and this presents you with a flatter and smoother surface to place another pot.
5. Let Them Hang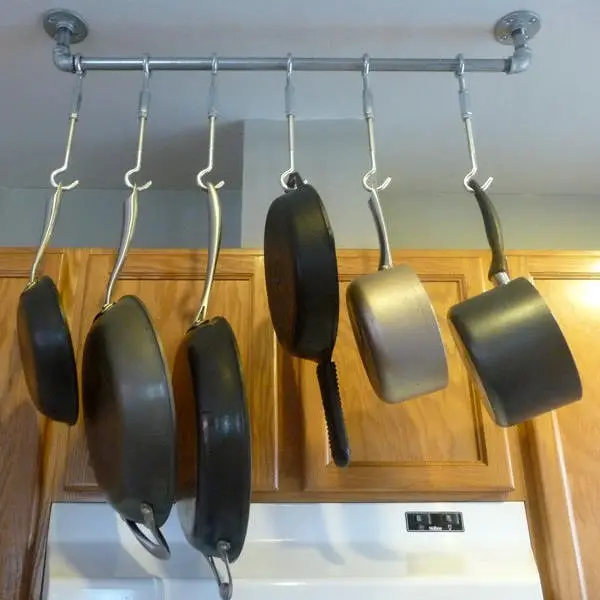 Hanging your pots on a rod is another great way to neatly store your cookware.
Hang a rod by the ceiling and attach hooks that you will use to hold the pots. You can even make one yourself if you're handy enough.
This method of storing pots and pans gives your kitchen a rustic look and this will definitely enhance the appearance.
It also helps you save valuable cabinet space that you can use for other purposes such as storing food, appliances, spices, etc.
6. Get A Lid Rack
Lids can be quite cumbersome but with a lid rack, you can neatly store them and bring order back to your kitchen.
Lid racks are usually designed with slots that you use to store the lids when they are upright.
Arrange the lids by size with the large one at the back/bottom so as to make it easy to see all the lids without straining.
7. Use A Towel Bar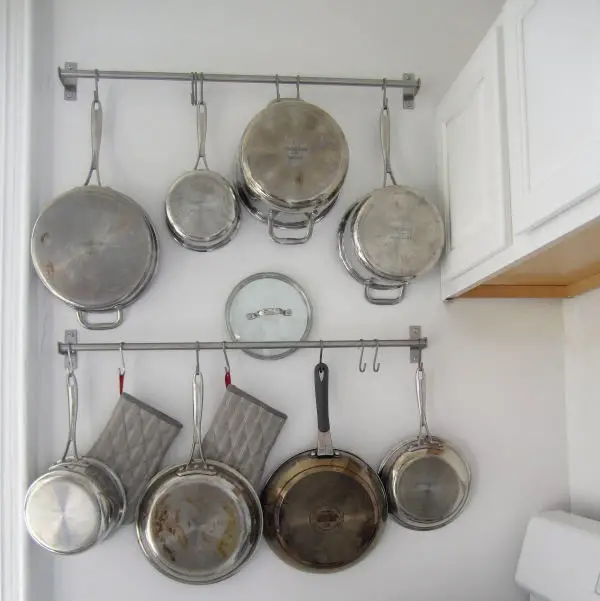 You use a towel bar in your kitchen to hang your kitchen towels but you can also use it to neatly store the pots and pans.
Use hooks to hang your pots but since you will not be able to store all your cookware this way, use it to hang the pans that you use often.
Alternatively, you can use it to hang your prettiest cookware such as your copper pots and pans.
8. Divide Deep Drawers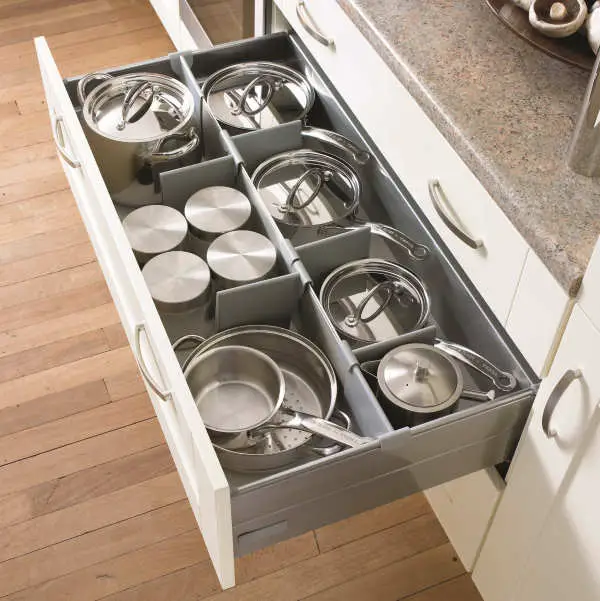 Divide the deep drawers in your cabinet to create space for your pots and pans.
By storing your pans this way, chances of them getting scratch marks are reduced and this ensures that your cookware will remain in pristine condition for as long as possible.
9. Reclaim Corner Cabinets
Most people hardly use the awkward corner cabinets but they can be transformed to become spacious storage spaces for your pots and pans.
Use hooks to hang the pots and pans and store the lids just under them.
Final Word
No one wants to be in a disorganized kitchen.
Your pots and pans, however, take up too much space and this could make it difficult for you to get anything done.
In this article, I have shared tips on how to store pots and pans neatly and bring order back to your kitchen.
📌 Pin Me for Later Reading! 📌
Save it to Kitchen Organization or Organizing Cookware.
Did I miss an idea? Tell me yours in the comment section below.