Have you realized yet that your knives are the most personal tools in your kitchen? Each time you use one of your knives, its shape and heft grow more familiar. The wear of the blade also shows just how many times you use the knife.
Using another person's knife feels uncomfortable and weird. There is a wide assortment of knives in the market. In addition to reviewing some of the best, this article also highlights the feature to look for in the best ones.
Features of the Best Kitchen Knives for Home Use
Choosing a great knife is not a tough thing to do. There are a couple of things you must consider to ensure you get one that will last for years.
The first thing you must consider is the material used to make the blade. There are several materials that are often used such as stainless steel, high-carbon stainless steel, carbon steel, Damascus type, and ceramic.
The material used will determine how easy it will be to sharpen and how long it stays sharp.
The handle is another feature you should consider. A good handle will not only complement the decor and utensils in your kitchen. It will also make it easier on you when you are using the knife. A comfortable handle makes things much easier.
1. Mercer Culinary Genesis 6-Piece Forged Knife Block Set
With a good knife at hand, preparing food becomes an interesting affair for everyone in the house. Therefore, before settling to buy a knife, looking into its quality and performance is essential.
For this reason, Genesis 6-piece forged knife block set is here to give you the best kitchen comfort of all time.
Mercer culinary is a brand that you can trust since it has been in existence for quite some time. The company guarantees to produce incredible tools that exceed the expectations of professional chefs.
The knives have a convenient design with an ergonomic Santoprene handle. This guarantees that the user has a perfect grip for easy cutting even through the toughest conditions.
Additionally, the blade has a full tang design that runs all the way to the handle. Therefore, giving you the confidence that at no given point will the blade slip off the hand.
Another deal-maker of this knife is its precision forged German steel blade. The superior blade design makes it super convenient and easy to sharpen too.
Additionally, the steel is stainless and rust, corrosion, and discoloration resistant. This gives you the freedom to use it at all times regardless of the conditions you are operating through.
The mercer culinary genesis knives also come with a stand that makes it easy for you to reach the knife you want with ease. Therefore, it will save you pretty of time while preparing food.
The cabinet stand is designed with glass, which makes it easy for you to spot the right knife faster.
2. Top Chef by Master Cutlery 9-Piece Knife Set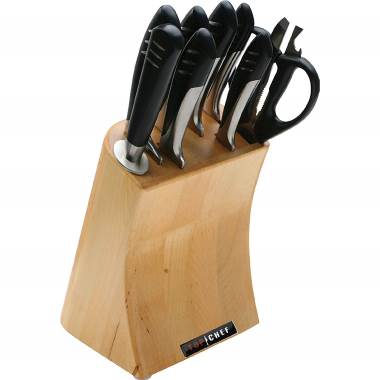 It feels good when you have the cutting power in your hands while preparing meals for your family.
However, when you have a single knife, and there is much to do, it often takes a lot of time. This, therefore, delays your preparations hence making you serve your family late.
Top chef by master cutlery has the solution for you. Instead of depending on a single knife to cut meat, vegetable, and everything else, it brings you a 9-piece knife set for easy adventures.
The different knives come in varying sizes giving you ample time around the kitchen.
The biggest blade size is 8-inch, which is quite convenient for fillet cutting, while the smallest is 3.5-inch making it suitable as a bread knife.
The set comes with a sharpening stick, which guarantees that your knife will be in good condition from the comfort of your home. It also comes with a butcher block for easy and safe storage. The butcher block also makes it easy for you to access any knife whenever you are willing to use it.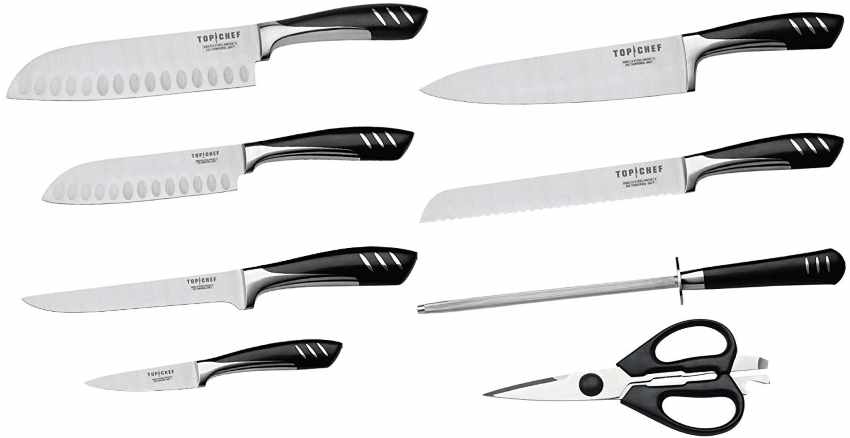 All the knives have a colorful top chef logo on the blades and butcher block for quality assurance.
You are, therefore, sure that even with all counterfeit products on the market, you will not be a victim as the logo will make it easy to identify an original product.
The stainless steel blade with ice-tempered design also enhances its sharpness and make the knife strong and durable.
Its non-slip handle also makes the knife effective as it provides perfect grip even when your hands are wet.
3. DALSTRONG Steak Knives Set – Gladiator Series
It is everyone's dream to own a perfect knife that is convenient for cutting anything without using much energy. Therefore, when one finds a knife that is not only strong but also has the ability to maintain its sharpness for long, it makes it a sure deal and worth all the investment.
Dalstrong steak knives set are built using high-quality material for longevity and stability. The blade is made from durable stainless steel, which makes it super flexible for any work around the kitchen.
The blade is long enough to ensure you can use the knife for any adventure from cutting fillet to the chicken breast easily.
Due to the brand's legendary satisfaction, it comes with an ergonomic handle design for perfect grip through any conditions. Therefore, you will not be worried about any possible injuries as it remains on your hands all through.
Its non-stick design also makes penetration quite easy and allows you to use it for several jobs without having to keep washing it from one task to the other.
Dalstrong steak knives also come with a perfect fit sheath for storage and mobility. With the sheath on, it is easy to carry the knife around without fear that it will impose injuries of any kind.
Conclusion
With proper cleaning, storage, honing and use, cutlery will last longer and remain pleasurable to use. When you choose the right features when looking for the best kitchen knives for home use, you will enjoy each meal you make.